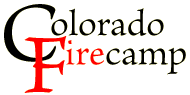 Ponderosa Lodge provides the facility for Firecamp's classes, meals and lodging.
Pueblo Fire Weather, Zone 220 for Chaffee and Lake Counties (available April thru October)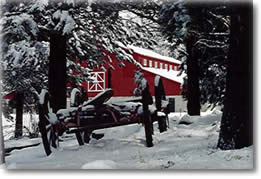 ---

Location, location, location: our wildland-urban interface provides the top 3 reasons why Firecamp is such a great place to train. A little over a half-mile from the lodge, the FR 219 Fire (named for Forest Road 219, the service road that runs underneath the high-voltage transmission lines) was contained to about an acre on the afternoon of April 23rd by USFS and Chaffee County Fire Protection District firefighters. Photo courtesy of Rick Gorrentz.

---

Get directions from Google Maps

(Please note, we are attempting to correct our location on Google: we are 1/2 mile north of US Highway 50 on County Road 240 — not on Washout Road.)

View Larger Map

---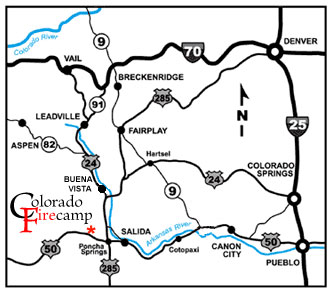 We are located 12 miles west of Salida and 1/2 mile north of Highway 50 at Maysville. Some on-line mapping websites wrongly show the address of 9008 County Road 240 as 9 miles north from the highway — which is a scenic but very rough drive to North Fork Reservoir. Click this link to the Google Maps for directions to Firecamp.
---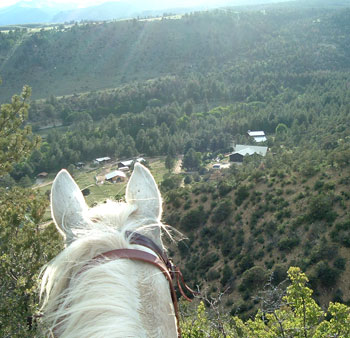 Colorado Firecamp (lodge and 'barn'- right center) as seen from Kent's favorite vantage point: in the saddle on his horse, Cloud.
---

View from the lodge dining room. Great spot for an early morning cup of coffee or to listen to the evening's wildfire war stories over a drink from the bar.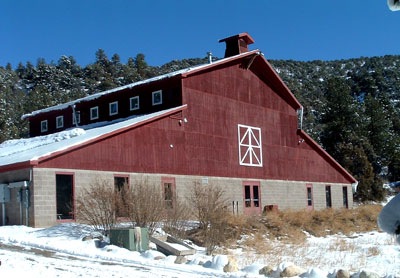 The horses and llamas don't use this 'barn.' Inside are two classrooms, a workout room, swimming pool, and basketball court upstairs.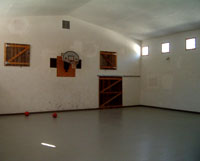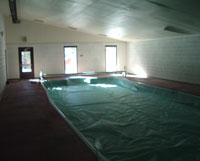 If the basketball court and swimming pool aren't enough for your physical fitness needs, you can always load 45 pounds in a pack and go for a hike.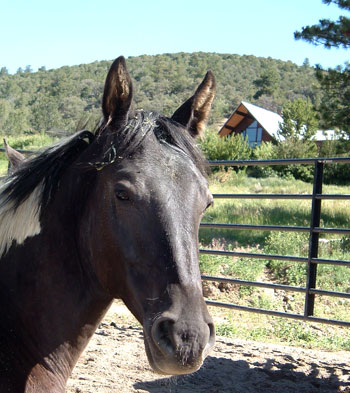 Picture of lodge and mix of ponderosa pine in dominant pinyon/juniper fuel type on east ridge with a west/southwest aspect and 75 to 100% slope subject to strong diurnal winds. And, oh yeah, also shown: Chinook, a yearling paint colt.