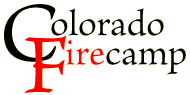 Annual Operating Plan, 2006-07
---
Firecamp-RMCG Memorandum of Understanding, approved November, 2003
Revision to 1994 NWCG Training Memo, adopted September, 2003
9008 Cty. Rd. 240
Salida, CO 81201
(719) 539-9329
Annual Operating Plan, 2006-'07
scope: The memorandum of understanding (MOU) between Rocky Mountain Coordinating Group (RMCG), Rocky Mountain Area Training Working Team (TWT) and Colorado Firecamp requires an annual operating plan be established at the spring fire meeting. This plan will guide the operations of Colorado Firecamp for the period between August 1st, 2006 and July 31st, 2007.
advisory committee: The Upper Arkansas Valley Wildfire Council (UAVWC) will continue to serve as advisory committee to guide the training programs of Colorado Firecamp. The UAVWC is the group of local, state and federal agencies from Chaffee and Lake counties that launched the Colorado Wildfire Academy.
target student base: Course offerings are primarily targeted to volunteer firefighters from Colorado fire departments and sheriffs' wildfire crews seeking qualification from firefighter type 2 (FFT2) to engine boss (ENGB). Classes continue to draw student from state and federal agencies. Enrollment is open to all students meeting course prerequisites.
student selection: Student selection for 100- and 200-level classes is on a first-come/first-served basis. All 300-level will utilize a priority system for local, zone and regional needs. Application for classes will be by standard NWCG nomination form or by Firecamp application.
course charges: Course charges include tuition, meals and lodging for $85 per day. A reduced rate of $50 per day is offered to UAVWC member agencies, excluding lodging. instructor cadre: For instructors not paid by agency, compensation will include $125 per day for the instructor cadre. A formal agreement is being finalized with the USFS Mountain Zone FMO to provide instructors in exchange for tuition for staff of the Salida and Leadville districts.
schedule: The Spring, 2006 schedule includes L-180/280, S-131/133, S-212, S-215, and 3 sessions of S-130/190. Also offered is Fire Instructor I, equivalent to M-410. Final determination of course schedule will be based in part upon the Pueblo zone and Region 2 training needs analysis.
NWCG classes are also taught for youth corps and conservation groups, including The Student Conservation Association in McCall, Idaho and the Southwest Conservation Corps in Durango, Colorado.
Engine Boss Apprenticeship: Colorado Firecamp will continue to pursue development of 3-year apprentice program teaching all classes required for USFS 5109.17 qualification as engine boss. This program will involve 5 weekend sessions per year, with 240-270 hours of classroom instruction. This program will be geared for company/chief officers who would routinely function as ENGB and ICT4 when responding on initial attack fires. Also included will be mentoring by wildland agency personnel, participation in prescribed fire activities, staff rides, and a professional reading program. With 501(c)(3) recognition, Colorado Firecamp is pursuing grant opportunities for funding. The first session could be November, 2006.
Fire Origins: $147,000 proposal pending to Fire Prevention & Safety grant program. A digital archive of wildland fire fatality and near-miss investigation reports will be the foundation of an "open source" website being developed by the Wildland Fire Lessons Learned Center. This will facilitate the exchange of ideas, creation of derived works and enhancement of existing firefighter safety materials.
"Wildfire Safety Drill: Mobilizing Lessons Learned" will be an annual 2-day exercise dedicated to improving firefighter safety at initial attack and transition fires. The Drill will serve as a showcase for the best practices of the annual fireline safety refresher class. The NWCG course, "Lessons Learned: Fatality Fire Case Studies" will be modified to DVD format with digital print material and updated with 5 additional case studies.