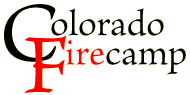 December 8-11, 2022

January 5-8, 2023

February 2-5, 2023

March 2-5, 2023
March 30 - April 2, 2023

April 20-23, 2023

May 11-14, 2023

June 1-4, 2023

June 22-25, 2023

July 13-16, 2023

Cost: $600 includes tuition, books, meals & lodging. Agency sponsorship is not required. Apply online now.
List of items needed for class is posted with S-130/190 class details.
Daily bus service to Salida departs from downtown Denver at 1:45 pm with a one-way cost of about $29 on the Bustang, Gunnison-Denver route. Light rail train service departs every 15 minutes on RTD University of Colorado A Line between Denver International Airport and Union Station in downtown Denver, with a ticket cost of $9 each way. Schedule your flight arrival time for 11:30 am or earlier on the day prior to your class start for the bus connections to Salida. Extra night of lodging costs $30. Firecamp staff will pick-up and drop-off students at the bus stop in Salida at no charge.
---
---
---
Introduction to ICS
---
---
S-130/190 Firefighter Training
and Introduction to Wildland Fire Behavior

---
Lesson 3: ICS Organization: Part I
Lesson Overview
The ICS Organization: Part I lesson introduces you to the:
Organizational structure of ICS.
Five major management functions.
Use of position titles.
Roles and responsibilities of the Incident Commander and Command Staff.
Selection and transfer of the Incident Commanders.
By the end of this lesson, you should be able to:
Describe the role and function of the Incident Commander.
Describe the role and function of the Command Staff.
ICS Organization
The ICS organization is unique but easy to understand. There is no correlation between the ICS organization and the administrative structure of any single agency or jurisdiction. This is deliberate, because confusion over different position titles and organizational structures has been a significant stumbling block to effective incident management in the past.
For example, someone who serves as a Chief every day may not hold that title when deployed under an ICS structure.
Performance of Management Functions
Every incident or event requires that certain management functions be performed. The problem must be identified and assessed, a plan to deal with it developed and implemented, and the necessary resources procured and paid for.
Regardless of the size of the incident, these management functions still will apply.
Five Major Management Functions
There are five major management functions that are the foundation upon which the ICS organization develops. These functions apply whether you are handling a routine emergency, organizing for a major non-emergency event, or managing a response to a major disaster. The five major management functions are:

Incident Command: Sets the incident objectives, strategies, and priorities and has overall responsibility at the incident or event.
Operations: Conducts tactical operations to carry out the plan. Develops the tactical objectives and organization, and directs all tactical resources.
Planning: Prepares and documents the Incident Action Plan to accomplish the objectives, collects and evaluates information, maintains resource status, and maintains documentation for incident records.
Logistics: Provides support, resources, and all other services needed to meet the operational objectives.
Finance/Administration: Monitors costs related to the incident. Provides accounting, procurement, time recording, and cost analyses.
Organizational Structure-Incident Commander
On small incidents and events, one person, the Incident Commander, may accomplish all five management functions. In fact, the Incident Commander is the only position that is always staffed in ICS applications. However, large incidents or events may require that these functions be set up as separate Sections within the organization.
Organizational Structure-ICS Sections
Each of the primary ICS Sections may be subdivided as needed. The ICS organization has the capability to expand or contract to meet the needs of the incident.
A basic ICS operating guideline is that the person at the top of the organization is responsible until the authority is delegated to another person. Thus, on smaller incidents when these additional persons are not required, the Incident Commander will personally accomplish or manage all aspects of the incident organization.
ICS Position Titles
To maintain span of control, the ICS organization can be divided into many levels of supervision. At each level, individuals with primary responsibility positions have distinct titles. Using specific ICS position titles serves three important purposes:
Titles provide a common standard for all users. For example, if one agency uses the title Branch Chief, another Branch Manager, etc., this lack of consistency can cause confusion at the incident.
The use of distinct titles for ICS positions allows for filling ICS positions with the most qualified individuals rather than by seniority.
Standardized position titles are useful when requesting qualified personnel. For example, in deploying personnel, it is important to know if the positions needed are Unit Leaders, clerks, etc.
Supervisory Position Titles
| Organizational Level | Title | Support Position |
| --- | --- | --- |
| Incident Command | Incident Commander | Deputy |
| Command Staff | Officer | Assistant |
| General Staff (Section) | Chief | Deputy |
| Branch | Director | Deputy |
| Division/Group | Supervisor | N/A |
| Unit | Leader | Manager |
| Strike Team/Task Force | Leader | Single Resource Boss |
Incident Commander's Overall Role
The Incident Commander has overall responsibility for managing the incident by objectives, planning strategies, and implementing tactics. The Incident Commander must be fully briefed and should have a written delegation of authority. Initially, assigning tactical resources and overseeing operations will be under the direct supervision of the Incident Commander.
Personnel assigned by the Incident Commander have the authority of their assigned positions, regardless of the rank they hold within their respective agencies.
Incident Commander Responsibilities
In addition to having overall responsibility for managing the entire incident, the Incident Commander is specifically responsible for:
Ensuring incident safety.
Providing information services to internal and external stakeholders.
Establishing and maintaining liaison with other agencies participating in the incident.
The Incident Commander may appoint one or more Deputies, if applicable, from the same agency or from other agencies or jurisdictions. Deputy Incident Commanders must be as qualified as the Incident Commander.
Selecting and Changing Incident Commanders
As incidents expand or contract, change in jurisdiction or discipline, or become more or less complex, command may change to meet the needs of the incident.
Rank, grade, and seniority are not the factors used to select the Incident Commander. The Incident Commander is always a highly qualified individual trained to lead the incident response.
As you learned in Lesson 2, formal transfer of command at an incident always requires a transfer of command briefing for the incoming Incident Commander and notification to all personnel that a change in command is taking place.
Expanding the Organization
As incidents grow, the Incident Commander may delegate authority for performance of certain activities to the Command Staff and the General Staff. The Incident Commander will add positions only as needed.

Command Staff
Depending upon the size and type of incident or event, it may be necessary for the Incident Commander to designate personnel to provide information, safety, and liaison services for the entire organization. In ICS, these personnel make up the Command Staff and consist of the:
Public Information Officer, who serves as the conduit for information to internal and external stakeholders, including the media or other organizations seeking information directly from the incident or event.
Safety Officer, who monitors safety conditions and develops measures for assuring the safety of all assigned personnel.
Liaison Officer, who serves as the primary contact for supporting agencies assisting at an incident.
The Command Staff reports directly to the Incident Commander.
---
<<< continue reading—Introduction to ICS, Lesson 4 >>>