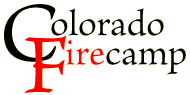 December 8-11, 2022

January 5-8, 2023

February 2-5, 2023

March 2-5, 2023
March 30 - April 2, 2023

April 20-23, 2023

May 11-14, 2023

June 1-4, 2023

June 22-25, 2023

July 13-16, 2023

Cost: $600 includes tuition, books, meals & lodging. Agency sponsorship is not required. Apply online now.
List of items needed for class is posted with S-130/190 class details.
Daily bus service to Salida departs from downtown Denver at 1:45 pm with a one-way cost of about $29 on the Bustang, Gunnison-Denver route. Light rail train service departs every 15 minutes on RTD University of Colorado A Line between Denver International Airport and Union Station in downtown Denver, with a ticket cost of $9 each way. Schedule your flight arrival time for 11:30 am or earlier on the day prior to your class start for the bus connections to Salida. Extra night of lodging costs $30. Firecamp staff will pick-up and drop-off students at the bus stop in Salida at no charge.
---
---
---
Introduction to ICS
---
---
S-130/190 Firefighter Training
and Introduction to Wildland Fire Behavior

---
Below are the tasks of the Firefighter 2 position taskbook. Most agencies do not use this taskbook, instead relying upon the S-130 instructor evaluation of the student. Still, the taskbook clarifies the knowledge, skills and abilities expected of the new firefighter.
NATIONAL INTERAGENCY
INCIDENT MANAGEMENT SYSTEM

TASK BOOK FOR THE POSITION OF
FIREFIGHTER TYPE 2 (FFT2)
TASK


GENERAL

Check condition of assigned tools, equipment, and gear; maintain or replace as appropriate (cutting tools, scraping tools, smothering tools, backpack pump, head lamp).

Inspect the condition of hand tools and equipment for serviceability. Check the condition of each tool and identify those which need replacement or repair.
Safely sharpen and field maintain commonly used hand tools or replace as appropriate. Sharpen to standards specified for selected tool, in field or shop, in a safe manner.

Select proper hand tool for assigned job. Appropriate tools will be selected for cutting, grubbing, scraping, raking, smothering or other field conditions.

O

Use safe and effective procedures when utilizing all assigned tools and equipment (cutting tools, scraping tools, smothering tools, backpack pump, head lamp).

Carry hand tools properly.
Load hand tools safely in vehicles.
Use hand tools properly. Correct techniques will be used for each tool assigned or selected according to fireline condition or requirement.
Assemble, fill, and operate backpack pump. Use safe and efficient techniques during operation. Store properly.
Assemble, mount, and use head lamp. Identify maintenance procedures.


O

Properly use fire shelter. Describe the correct procedure to select and prepare a site for deployment, and demonstrate the proper deployment and use of the fire shelter.


O

Recognize organization, initial attack and large fire, and follow the chain-of-command.

Discuss in correct terminology the ICS organization.
Follow chain-of-command. Identify two supervisory positions above level of FFT1 that would be contacted if the Single Resource Boss Crew (CRWB) is not available.

Maintain good personal hygiene and fitness.

Satisfactorily complete pack test or physical fitness test as required by agency.

Bring adequate personal gear and effects according to agency policy.

Have available personal protective equipment (PPE). Demonstrate the care and use of PPE utilizing or obtaining items as required by agency policy.
Bring other adequate personal gear and effects according to agency policy. Report with complete personal gear and effects for extended assignment. Kit generally includes:
Individual first-aid kit.
Canteens.
Gloves.
Hard hat.
Goggles.
Ear plugs.
Fire resistant shirt and trousers.
Socks and underwear.
Jacket.
Boots (8 inch high, leather, lace-up).
Toiletry items.
Pocket notebook.
Compass.
Fire shelter.
Headlamp.
Other items depending on climate and location and type of incident or assignment (e.g., sunscreen, long johns, structural protection gear).

O

INCIDENT ACTIVITIES

Participate in organized and coordinated crew tactical actions.

Identify parts of a fire, including head, perimeter, flank, rear, anchor point, finger, and spot.
Identify safety islands and planned escape routes. Describe blackline concept.
Demonstrate at least two coordinated crew techniques such as one-lick, leapfrog, and bump-up.
Describe procedures for direct attack, indirect attack, and parallel attack and when each procedure would be used.
Describe seven variations of natural and constructed fire control line.
Demonstrate a thorough familiarity of commonly used terms to describe what the fire is doing and how it affects fire control tactics in ground fuels, surface fuels, and aerial fuels.
Recognize threats to control lines and counter by appropriate line practices.
Describe and/or identify hazards to firefighters.
Describe dozer or tractor plow follow-up procedures. Clean up or break up machine piles and berms, fireproof needed areas, limb trees, prepare and burn out control line, mopup the interior, patrol the control line.
Discuss safety procedures which should be followed around engines, dozers, and tractor plows.
Follow safety procedures when in an area where retardant/water drops are being made. Demonstrate use of hand signals, position, and placement of tools under a simulated control line condition.

Reduce threat of spotting or slopover by rearranging, removing or fire-proofing fuels near the fireline.

Rearrange fuels. Use accepted techniques such as limb-up to reduce ladder fuels and bone yarding.
Remove heat source inside and adjacent to control line.
Treat fuels outside the fireline.
Control a partly dead fire edge.
Detect and suppress all spotting and slopovers.
Use dry and wet mopup techniques.
Construct cup trenches when applicable.
Construct water barriers on fireline.

O

Participate in reducing the threat of fire
exposure to improved properties.

Describe procedures to re-arrange/reduce fuels.
Describe or identify procedures to secure hazards.
Describe procedures to prepare building/structure.
Describe the application of pre-treatment agents (water, foam, gel, blanket).

O

Follow established procedures in securing the
fireline.

Continually inspect condition of tools, equipment, and gear. Maintain or replace as appropriate.
Follow established safety procedures when working around fireline equipment.
Identify hazards and safety procedures when working around fireline machinery.
Identify hazards to other firefighters and supervisor.

O

Check condition of firing devices and prepare
for use.

Check condition of firing devices appropriate for "blackline" burnout.
Prepare a drip torch for use. Mix fuel, inspect, assemble, and fill torch.
Ignite, use, and extinguish drip torch or fusee. Observe established safety procedures.
Use expedient firing methods. Demonstrate use of a tool to drag burning materials along ground. Use of matches,
rags on a stick or other available devices.

O

Follow specified firing sequence and
coordinate efforts with other personnel.

Follow specified firing sequence. Firing will be completed in timely manner following agency safety procedures and directions of CRWB or Single Resource Boss Firing (FIRB).
Coordinate with other personnel. Follow instructions of supervisor or FIRB.
Report conditions and activities which seem unsafe or counter productive. Apply Standard Fire Orders and Watch Out Situations.

O

Use a systematic procedure for locating and
suppressing fire within the assigned areas.

Locate and suppress fire within assigned area. Use a systematic procedure and appropriate mopup actions.
Mopup systematically. Progress from hottest area to coldest. Plan a beginning and ending point. Work inward from control line.

O

Detect or locate hot materials or burning fuels.

Use all senses to find hot materials to be mopped up. Use sight, touch, smell, hearing, and mechanical devices to aid detection.

O

Detect and suppress covered fuels.

Detect and suppress covered fuels in machine piles.
Detect and suppress banked fuels.
Identify several possible hazards.

O

Maintain some form of communication with
designated personnel.

Get clear instructions from supervisor on what, how, and when to report. Repeat instructions to verify clear understanding of orders and expectations.
Maintain good communications with the crew and supervisor. Use radio, hand signals, written messages, voice (yelling), and use of runners.

O

Identify situations which warrant immediate action and/or reporting.

O

Conduct self in a professional manner.

Respectful and courteous as an organized crew member. Fair, responsible, punctual, physically fit, and responsive to work assignments. Perform work safely.
Respect those persons having different cultural variance, minorities, and women. Respectful of others.
Respect private property.

O

Assume responsibility for fire tools, equipment, and gear.

O

Look out for the safety and welfare of self and
other crew members and immediately report
any threat to their safety.

Demonstrate ability to apply first aid to stop bleeding and care for cuts, blisters, and heat injuries.
Identify situations which warrant immediate action and/or reporting, based on the Standard Fire Orders and Watch Out Situations, and Urban Interface Watch Out Situations.
Follow safety procedures for site hazards (e.g., LPG tanks, electrical, septic tanks, etc.).

O

Follow safety procedures for transporting
personnel and equipment.

Follow safety procedures for loading, riding, and unloading personnel and equipment in:

Vehicles.
Boats.
Helicopters.
Large transport aircraft.
Small fixed-wing aircraft.

Identify agency policy and practice safety procedures appropriate to conditions.
Follow safety procedures for foot travel and supervisor's instructions.

O

Follow local policies to maintain environmental quality.

Comply with local policy to avoid damage to social or cultural environment.
Notify supervisor of historical resources found.

O

Adapt to changing work environment.

Accept changes in work assignments and conditions due to stages of the fire. Follow supervisor's instructions and standards for line construction and mopup.

O

Inspect hose and accessories for type, size, and
condition.

Inspect hose for holes, mildew, rot, damaged threads, inoperative valves. Correctly recognize and describe each item.
Recognize and describe the use of tools: spanner wrench, hose clamp, hose mender, couplings.

O

Carry hose and accessories identified by supervisor to assigned locations.

Use proper procedure, depending on fuel type and terrain, for deploying hose along a preselected route or around improved properties.

O

Retrieve hose and accessories during emergency and non-emergency situations to designated location.

O

Identify and mark items which are not serviceable.

O

Extend charged hose lay by properly clamping, disconnecting, inserting, and recoupling hose.

O

Under supervision select proper nozzle setting and appropriate agent for the job.

Describe fire situation when each of the following will be used: water, foam, gel. Select proper agent and nozzle setting for the job: fog/spray, straight stream, on/off. Describe each method.

O

Identify environmental factors of fire behavior which affect the start and spread of wildland fire.

Describe the fire triangle.
Define methods of heat transfer.
Identify principle environmental factors affecting fire behavior.
Explain how fuel size affects fire behavior.
Explain how the arrangement of fuels affects fire behavior.
Describe how wind affects fire spread.
Give weather factors which affect fuel moisture.
Describe how topography affects fire spread.
Describe how building construction and arrangement affect fire spread.

O

Describe how fire suppression may be used to break the fire triangle.

Describe ways of breaking the fire triangle.
Give ways in which constructed fireline can be threatened by fire remaining inside of fireline.
Define the blackline concept and how it is used.
Describe benefits of defensible space around improved properties.

O

List fire weather factors involved in fire suppression.

List elements of weather that concerned firefighters use to predict fire behavior.
List daily weather processes that can occur in mountainous terrain that will affect wildland fires.
Name sources of unusually strong winds which can occur on wildland fires.
Give weather situations which can cause rapid shifts in wind direction.
Give visual indicators that suggest the weather is changing.
List visible parts of cloud development to indicate it is a thunderhead.
Describe the safest area around a fire threatened by an approaching thunderhead.

O
*Code:
O = task can be completed in any situation (classroom, simulation, prescribed fire, daily job, etc.)
I = task must be performed on an incident (flood, fire, prescribed fire, search & rescue, planned event, etc.)
/R = Rare eventthe evaluation assignment may not provide opportunities to demonstrate performance. The evaluator may be able to determine skills/knowledge through interview or the home office may need to arrange for another assignment or a simulation.