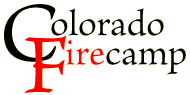 Frequently Asked Questions...
---
Frequently Asked Questions
---
"What is the 'Red Rard'?"
The Red Card is an agency-issued document that certifies that an individual has the training, experience and physical fitness to perform the tasks of a specified position on a wildland or prescribed fire.

---
"How do I get my Red Card?"
Most often, a person's first Red Card is for the position of Firefighter Type 2 (FFT2) which requires:

a minimum 32 hours of training (S-130/190 Basic Firefighting and Wildland Fire Behavior)
demonstration of physical fitness at the "arduous" level, by completion of the Pack Test — walking 3 miles in 45 minutes or less carrying a 45 pound pack
an employing agency to certify the individual

---
"Do I get my Red Card when I leave Firecamp?"
No. The Red Card is issued by your hiring agency.

---
"How long is a Red Card good for?"
Your wildland firefighter certifications are current for 5 years, with an annual RT-130 refresher and work capacity test required each . Your current position is good for 5 years from the date of your initial training (S-130/190), your latest refresher course (RT-130), or your last fire assignment in a qualifying position.
---
"How often is an RT-130 and Pack Test needed?"
Most agencies require all wildland firefighters to take a refresher course (RT-130) about every 13 months. All wildland firefighters must pass the Arduous Work Capacity Test once a year to remain current. Timelines can vary by agency, be sure to check with your local department to learn their specific requirements.