Point Fire, 1995
&
Island Fork Fire, 1999
dedication
---
Point Fire Case Study
---
Point Fire Accident Investigation
A. Point Fire Overview
B. Investigation
Entrapment Investigation Element Matrix and Entrapment Investigation
Ten Standard Orders, 18 Situations that Shout "Watch Out"
D. Supporting Data
Organization Charts
Site Investigation
Fire Behavior Report
Property Damage Report
Witness Statements
Outline of Kuna Wildland Training Provided by BLM
E. Records and Reports
Preplanned Dispatch
BLM Radio Transmission Log
Ada County Dispatch Log
Fire Incident Status Summary
Escaped Fire Situation Analysis
Wildland Fire Entrapment Report
Technical Analysis of Personal Protective Equipment
Vehicle Inspection
Weather Reports
F. Glossary
——————
Island Fork Fire Accident Investigation
Findings
Causal Factors
Recommendations
Appendices
——————
---
Point Fire — U.S. District Court Civil Case
Ruling on I.C.'s Decisions - Nov. 10, 1998
• Factual Background
• Legal Analysis
Ruling on BLM Liability - Feb. 19, 1999
• Findings of Fact
• Legal Standards
• Analysis
Ruling on Public Safety Officer Benefits (PSOB)
——————
——————
Colorado Firecamp extends special thanks to Linda Perkins, BLM Idaho State FOIA Coordinator, for her friendly assistance in gathering the Point Fire documents. BLM FOIA Letter

Kentucky Division
of Forestry

Report of the
Accident Investigation Team
for the
Island Fork Fire

April 6, 1999 • Near Cranston, Kentucky
---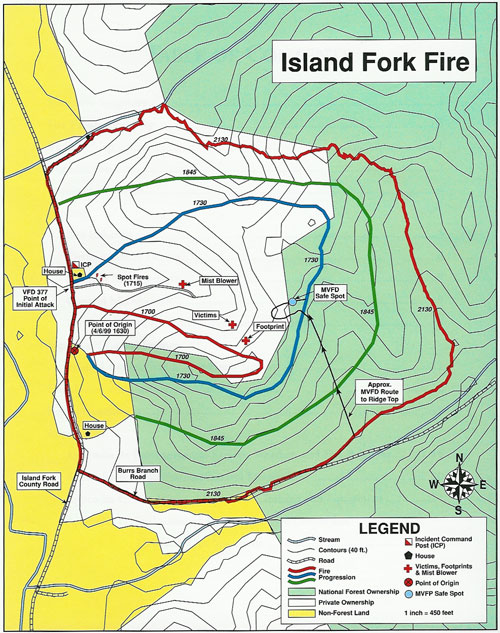 Fire Progression Map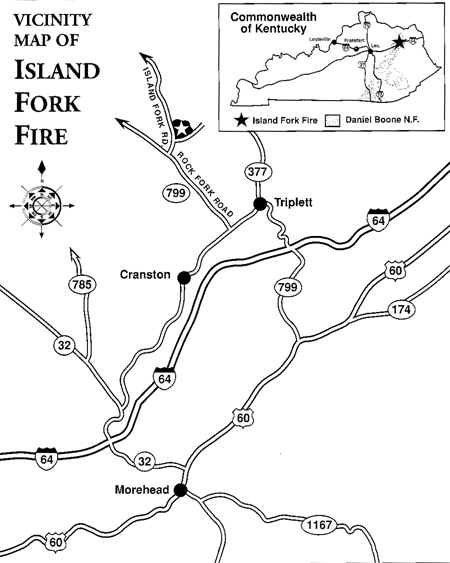 Vicinity Map
---
Introduction
On April 9, 1999, an accident investigation team was assembled at the request of the Kentucky Division of Forestry. From April 9 to April 11, 1999, this team investigated the Island Fork Fire and the fatalities. Interviews conducted by the Kentucky State Police, Kentucky State Fire Marshal, and Kentucky Division of Forestry were reviewed. The incident site was visited, and photographs of the fire scene were taken aerially and on the ground. The fire site was videotaped aerially. Copies of the death certificates, dispatch records, and maps of the scene were obtained.
The Route 377 Volunteer Fire Department (VFD) has approximately 30 members and serves a large portion of Rowan County. The two victims were volunteer firefighters with the Route 377 VFD. Kenneth Nickell had over seven years experience as a wildland firefighter. Kevin Smith was a recruit with the VFD. Both men were in "very good" physical condition. The Route 377 VFD regularly responds to wildland fires in the spring and fall.
Three fire trucks and 15 people initially attacked the fire, 10 from the Route 377 VFD and 5 from the Morehead Fire Department. A captain with Route 377 VFD was the Incident Commander (IC). Before the fire was controlled, there were 9 engines, over 45 personnel, and 5 agencies involved with this fire. However, only the events involving the crew that contained the victims are included in this report.
---
<<< continue reading—Island Fork Fire Investigation, Sequence of Events >>>