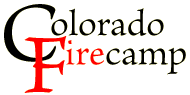 April 13-15, 2007
Salida, Colorado
---
Anderson Ranch Fire — August, 1997
Investigation Report
Action Plan
---
Communicating Intent and Imparting Presence
---
Taskbook Opportunities
Single Resource Boss
ICT4
Task Force Leader
---
Salida Chamber of Commerce Visitor Information
---
Wildfire Safety Drill, 2007

April 13-15, 2007
Salida, Colorado

Keynote speakers: Dr. Jennifer Ziegler
and Doug Campbell
---
Wildfire Safety Drill — Colorado Firecamp's annual fireline safety refresher — offers a chance to shake off the winter rust and build crew cohesion. Field exercises are designed to enhance situational awareness skills needed for entrapment avoidance.


Dr. Jennifer Ziegler from Purdue University participated in the 2006 Wildfire Safety Drill and will make a keynote presentation on the Fire Orders for the 2007 Drill.


Doug Campbell — USFS firefighter for 31 years and author of "The Campbell Prediction System" — will share his vast field experience and knowledge of fire behavior.


During a tail-gate safety briefing, 2006 Drill participants discuss a sketchy, mid-slope assignment in a pinyon-juniper stand on Methodist Mountain.
Presentations during the 2006 Drill were:
Cedar Fire by Dan Northern, retired deputy fire chief, Novato Fire Department, Novato, CA.

Cramer Fire by Kelly Close, fire behavior analyst and company officer, Poudre Fire Authority, Ft. Collins, CO.
Every participant will receive a certificate for RT-130, Annual Fireline Safety Refresher. Other highlights include:
Engine inspections and assistance with programmable radios.

Trainee taskbook opportunities for type 1/2 firefighter, single resource boss, type 4/5 incident commander, and strike team/task force leader.

Practice shelter deployment in adverse conditions.

Work capacity test, no additional charge but considerable extra effort (Arduous pack test: 46 min. 15 sec. at 7,200 ft. elevation)


The volleyball court at Riverside Park in downtown Salida serves as sand table for a tactical decision-making exercise during the 2006 Drill.

Cost to participate is only $25 individual, $50 engine crew, or $150 hand crew, strike team or task force. Drill begins 6:00 pm, Friday, April 13th and concludes 4:00 pm, Sunday, April 15th, 2007.
Call (719) 539-9329 for more information, or email: learn@coloradofirecamp.com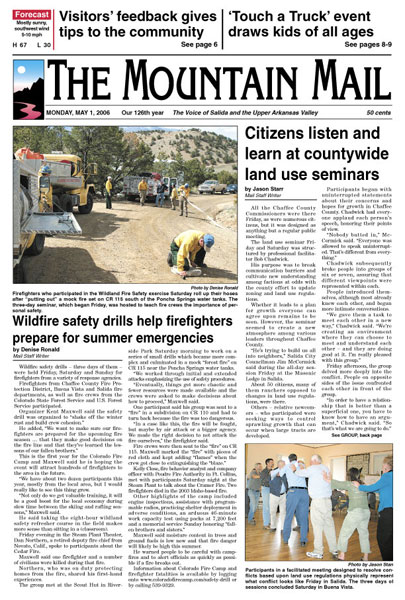 May 1, 2006 "Mountain Mail" newspaper front page. Click to read the full article.