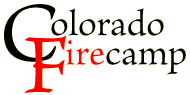 Wildland Fire Suppression Tactics Reference Guide
---
Download .pdf copy of Wildland Fire Suppression Tactics Reference Guide, (5.19 mb)
---
INTRODUCTION TO REFERENCE GUIDE
FIRE ORDERS
WATCH OUT SITUATIONS
LOOKOUTS, COMMUNICATIONS, ESCAPE ROUTES, SAFETY ZONES
(LCES)
SECTION 2—USE OF WATER AND ADDITIVES
Types of Pumps
Hydraulics
Series, Parallel, and Staged Pumping
Hose Lays
Mopup
Tactical Use of Water
Surfactants
Class A Foam
Retardants
Firegels
SECTION 3—USE OF FIRE IN CONTROL OPERATIONS
Burning Out and Backfiring
Types of Fire Spread
Ignition Techniques
Strip Firing
One, Two, Three -Three, Two, One (1-2-3/3-2-1) Firing Concept
Head and Strip Head Firing
Blowhole Firing
Spot Firing
Ring Firing
Chevron Firing
Burn Strip
Planning and Conducting Firing Operations
Special Firing Considerations
Firing Equipment
SECTION 4—MECHANICAL EQUIPMENT
Dozers
Comparison of Dozers Used For Fireline Construction
Dozer Production Rates
Dozer Line Construction Principles
Tractor Plows
Principles of Tractor/Plow Operations
Engines
Mobile Attack
Tandem Tactic
Pincer Tactic
Envelopment Tactic
Stationary Attack
Inside-out Tactic
Parallel Attack
Engine Production Rates
SECTION 5—TACTICAL AIR OPERATIONS
Factors Affecting Aircraft Use
Factors to Consider in Retardant Aircraft Use
Types, Effects, and Use of Retardant
Recommended Retardant Coverage Levels
Retardant Evaluation Criteria
Air Tanker Tactics
Principles of Retardant Application
SECTION 6 -WILDLAND/URBAN INTERFACE
Kinds of Wildland/Urban Interface
Structural Fire Behavior
WildlandlUrban Fire Sizeup Considerations
Structure Triage
WildlandlUrban Interface Firefighting Tactics
Structure Full Containment
Structure Partial Containment
Structure No Containment
Structural Firefighting Situations That Shout "Watch Out"
Structural Watch Out Situations & Triage Made Easier to Remember
SECTION 7 -FUELS, FIRE BEHAVIOR, AND TACTICS BY GEOGRAPHIC
AREAS OF THE UNITED STATES
Alaska
Northwest and Northern Rocky Mountains
Southern and Central California
Great Basin and Southern Rocky Mountains
Southwest
Northeast
Southeast
GLOSSARY OF TERMS
WILDLAND FIRE
SUPPRESSION TACTICS REFERENCE GUIDE
PMS 465
NFES 1256

APRIL 1996
---
SECTION 1 -FIRE SUPPRESSION PRINCIPLES (continued)
HOW TO ATTACK A FIRE
If you are the first person to arrive at a fire or a single resource boss in charge of the first crew at a fire, you have several problems. You are confronted with deciding; 1) what is the most important work to do first, and 2) where the most effective work can be done. Keep in mind at all times that firefighter safety is the highest priority in fire suppression.
After sizing up the fire you need to select an anchor point and make your attack. Following are some good practices in making an initial attack or suppressing a large fire.
If you are the incident commander, establish an organization and command structure. Make sure your subordinates know the plan and are kept informed on changing conditions, tactics and/or strategies.

Use water or dirt to cool and extinguish hot spots.

Anticipate future control action when the fire cannot be contained promptly.

Construct fireline uphill from an anchor point.

As a first effort, keep fire out of the most dangerous fuels, and prevent it from becoming established in explosive types of fuels, such as grass, thickets of tree seedlings, heavy brush, or slash areas.

Confine fire as quickly as possible.

Locate and build firelines. Move all rollable material so it cannot roll across firelines.

Leave no significant areas of unburned material close to fireline.

To gain control, swiftly locate and build fireline in the easiest and safest places for line construction that can be held. Burn out as needed when line is constructed and burning out can be controlled.

Utilize existing barriers to full extent.

If fire spread cannot be contained, notify dispatch and do some safe, effective work on at least a part of the fire.

Where improvements (houses, other buildings, fences) are involved, consider all the facts before determining which point to attack first. No improvement or piece of property is worth firefighter injury or fatality.
Now a decision must be made concerning how to attack a fire. The methods of attack are direct, parallel, and indirect.
Direct attack is made directly on the fire's edge or perimeter (see Figure 3). The flames may be knocked down by dirt or water and the fire edge is generally treated by a follow-up fireline. Or, a fireline is constructed close to the fire's edge and the fuel between the fireline and the fire is burned out or the fire is allowed to bum to the fireline.
Figure 3—Direct Attack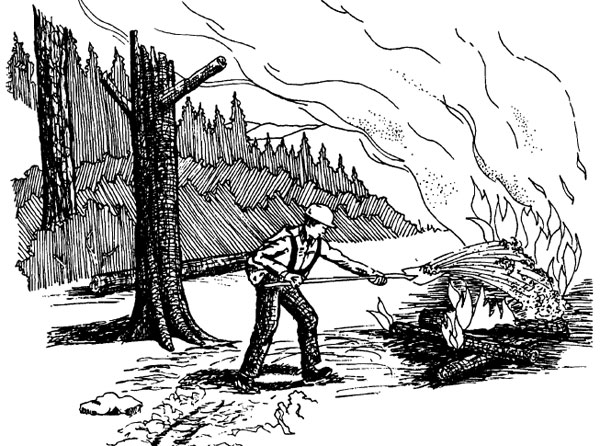 Direct attack generally works best on fires burning in light fuels or fuels with high moisture content burning under light wind conditions. Direct attack works well on low intensity fires (flame lengths less than 4 feet) which enable firefighters to work close to the fire.
A major advantage of direct attack is firefighter safety. Firefighters can usually escape back into the burned area for a safety zone. This is known as "keeping one foot in the black."
Parallel attack is made by constructing a fireline parallel to, but further from, the fire edge than in direct attack (see Figure 4). This tactic may shorten fireline construction by cutting across unburned fingers. In most cases the fuel between the fireline and the fire edge is burned out in conjunction with fireline construction.
Figure 4—Parallel Attack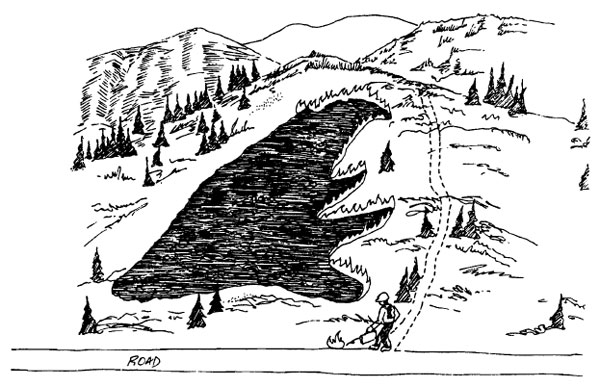 Indirect attack is accomplished by building a fireline some distance from the fire edge and backfiring the unburned fuel between the fireline and the fire edge (see Figure 5). Indirect attack takes advantage of using natural and human-made barriers as fireline and allows a choice of timing for backfiring. Indirect attack is generally used on hot fires with high rates of spread where direct attack is not possible.
Figure 5—Indirect Attack

---
<<< continue reading—Wildland Fire Suppression Tactics Reference Guide, Where to Attack a Fire >>>