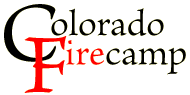 Fire Officer I
Weekend #1, April 22-24, 2021
Weekend #2, April 29-30, 2021
DFPC Fire Officer I JPRs
Fire Officer I JPR skills packet
---
The Colorado Division of Fire Prevention & Control has established 15 Job Performance Requirements (JPRs) based upon NFPA 1021, Standard for Fire Officer Professional Qualifications, 2009 edition, divided among the following 6 categories:
---
Emergency Service Delivery (JPR #13)
4.6 This duty involves supervising emergency operations, conducting pre-incident planning and developing assigned resources in accordance with the local emergency plan and according to the following job performance requirements.
— DFPC Fire Officer I JPR Sheet # 13 - pdf file —
Assignment Sheet 19-1, Apply the NIMS-ICS Model to an Emergency Scene - pdf file
Assignment Sheet 21-2, Conduct a Postincident Analysis - pdf file
4.6.2 Develop an initial action plan, given size-up information for an incident and assigned emergency response resources, so that resources are deployed to control the emergency.
(a) Requisite Knowledge: Elements of a size-up, standard operating procedures for emergency operations, and fire behavior.
(b) Requisite Skills: The ability to analyze emergency scene conditions; to activate the local emergency plan, including localized evacuation procedures; to allocate resources, and to communicate orally.
4.6.3 Implement an action plan at an emergency operation, given assigned resources, type of incident, and a preliminary plan, so that resources are deployed to mitigate the situation.
(a) Requisite Knowledge: Standard operating procedures, resources available for the mitigation of fire and other emergency incidents, an incident management system, scene safety, and a personal accountability system.
(b) Requisite Skills: The ability to implement an incident management system, to communicate orally, to manage scene safety, and to supervise and account for assigned personnel under emergency conditions.
4.6.3 Develop and conduct a post-incident analysis, given a single unit incident and post-incident analysis policies, procedures, and forms, so that all required critical elements are identified and communicated, and the approved forms are completed and processed in accordance with policies and procedures.
The following documents should be enclosed with JPR # :
A detailed narrative outlining the method used by the candidate to accomplish the task(s) utilizing the task steps.

Standard Operating Procedures/ Standard Operating Guide (SOP/SOG) or statement regarding lack of a department policy. If no department policy exists, please state resources utilized.
Completed action plan and forms
Incident Reports
Drawings/pictures (if applicable)
---