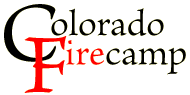 Frequently Asked Questions...
---
"What should I bring with me for class?"
You will receive all course materials on the first day of your class at Colorado Firecamp. Depending on which course you are taking you will want to bring a personal laptop (ie: Fire Instructor I, Fire Officer I, Jobs Workshop). Firecamp does have some laptops available on loan for students that need them.

Most courses have a mandatory field exercise on the final day. Please bring whatever wildland personal protective equipment (PPE) you have. At minimum you will need to provide your own sturdy boots (do not need to be fire specific), a pair of leather gloves, and eye protection (ie: sunglasses). Nomex pants and shirts, helmets, and fireline packs can be loaned from the Firecamp stash for students that need them. Any clothing you plan on wearing as base layers underneath your Nomex should be made from natural fibers (wool is best), stay away from synthetic fabrics as much as possible. Prepare in advance to bring WEATHER APPROPRIATE clothing and boots. Firecamp offers classes all year round and will hold field days in incriment weather.

*A winter weather work jacket is recommended for October through April training. This jacket should be one you do not mind beating up a bit and potentially wearing around live fire. So, avoid the puffy/down coats as your field jacket.

There are no clothing restrictions for classroom time.
"What about the S-212 Chainsaw Class?"
Please bring the following items with you (or ask to borrow from Firecamp's tool cache) for the class field sessions. If you cannot bring all of the items at least bring what is italicized.

•Approved hardhat (full brim or cap style).
• Wrap-around eye protection (safety glasses or shield).
• Hearing protection (earplugs or muffs).
• Gloves that are slip-resistant and appropriate for the weather conditions.
• Long-sleeved shirt appropriate for the weather conditions. Nomex is
optional during the field exercises.
• Cut-resistant boots with non-slip sole (generally, leather with Vibram sole.)
• Approved chain saw chaps.
• A chain saw equipped with a 18-25" guide bar in good working condition,
with chain brake and saw tool kit with owner's manual for your chain saw.

•A 3-5 pound falling axe, wedges and wedge pouch.
• 1 gallon of chain saw bar oil.
• Please DO NOT bring your own fuel. To avoid cross-contamination of our
resources Firecamp will provide fuel for all saws.