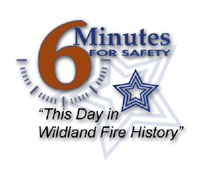 Today's discussion is from
"This Day in Wildland Fire History"
"Lessons Learned" serve as brief summaries of powerful learning opportunities. You can use these summaries as a foundation and launch point for further dialogue and discussion. Apply these lessons learned to yourself, your crew, and your unit.
---
Incident Summary: On July 2, 1994, seven miles west of Glenwood Springs, Colo., lightning ignites a Bureau of Land Management fire in pinyon-pine juniper on a ridge at the base of Storm King Mountain. The fire, paralleled by two deep canyons, is initially believed to have "little chance" to spread. The past two days, lightning has started 40 new fires on this BLM District. The entire general area, in a one-year drought, is experiencing low humidities and record-high temperatures. Over the next two days, the South Canyon Fire increases in size. Visible from Interstate 70 and nearby residential areas, the public becomes concerned. Some initial attack resources are assigned. Between July 3-6, the fire grows to approximately 2,000 acres. On July 6, a dry cold front moves into the fire area. As winds and fire activity increases, the fire makes several 100-foot flame-length rapid runs within the existing burn—in dense, highly flammable Gambel oak. Fourteen firefighters perish as they try to outrun the flames. The remaining 35 firefighters survive either by escaping down a deep drainage or by seeking a safety area and deploying their fire shelters.
---
July 5 – Summary of Activities
Red flag warnings and very high to extreme fire danger are predicted again today.
A crew of seven firefighters hikes up into the South Canyon Fire at the base of Storm King Mountain. They cut Helispot 1 and begin direct fireline construction downhill along the fire's edge below this helispot.
The IC orders another district engine crew, one helicopter, and one 20-person hand crew. A load of eight smokejumpers is then substituted for the hand crew.
To support fireline construction, an air tanker retardant drop is requested. After the first load is dropped, due to steep terrain and gusty winds, the IC and pilot agree that more drops would be ineffective.
At 5:30 p.m. the IC and engine crew leave the fire to refurbish equipment. Fifteen minutes later, 8 smokejumpers are dropped at the top of the fire. The IC directs them to work on the fireline from the helispot downhill toward the west drainage.
The Jumper-in-Charge informs the IC that the fire has crossed their fireline and is burning actively. The jumpers begin building fireline on the east side of the ridge. After sizing-up the current fire, the Jumper-in-Charge orders two Type 1 hand crews. By 10 p.m., the fire has grown 20 acres today. It now covers 50 acres.
Lessons Learned
Discussion Points
Downhill fireline construction is hazardous in steep terrain, fast-burning fuels, and rapidly changing weather. Downhill fireline construction should not be attempted unless there is no tactical alternative.
If your fire crew was assigned to construct fireline downhill on Storm King, what would your concerns be? Could you perform this operation safely? (Reference page 1 in your IRPG for this discussion.)